Force by EvoHeat is our domestic pool and spa heat pump that provides high performance with the lowest running costs. The Force Series is built with high quality components from leading brand manufactures in the USA, Europe and Japan and designed to perform 365 days of the year under our harsh Australian conditions.
GREAT AUSTRALIAN MONEY SAVERS FOR BACKYARD POOLS
With eternally fluctuating energy prices, don't gamble with low C.O.P. (i.e. low efficiency) pool heaters. The Force Series is a sure thing with class leading C.O.P. of 6kW+ output for every 1kW of electricity you pay for. It's more than 600% more energy efficient compared to other heating technology on the market. More bang for your buck means a rapid return on investment. Don't just take our word for it – check out our savings to expect.
• Heating and cooling
• Compact sleek design
• Automatic defrost system
• Cutting edge, intelligent touch screen LCD allowing full programmability.
• Electronic expansion valve (EEV2)
• Exclusive ripple fin technology
• Titanium heat exchanger
• Flow switch and high pressure cut out to ensure additional safety and protection
• PVC and powder coated zincalume corrosion resistant cabinet
• Easy installation
• Low noise fan blades
• Horizontal airflow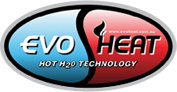 More Information
Brand
EVO Heat
Warranty

25 YEARS WARRANTY ON THE TITANIUM HEAT EXCHANGER

5 YEARS ON COMPRESSOR / FUSION 3 YEARS ON COMPRESSOR

2 YEARS ON PARTS

1 YEAR ON SITE LABOUR