Force by EvoHeat is our domestic pool and spa heat pump that provides high performance with the lowest running costs. The Force Series is built with high quality components from leading brand manufactures in the USA, Europe and Japan and designed to perform 365 days of the year under our harsh Australian conditions.
GREAT AUSTRALIAN MONEY SAVERS FOR BACKYARD POOLS
The Evo Force-i series heat pump is our high performance pool and spa inverter heat pump that provides year round pool heating with the lowest running costs. Designed with the latest stepless full DC inverter compressors, fans, and control systems – all working in perfect harmony to provide optimized heating and cooling with the lowest operating costs. With higher performances, lower noise levels, and more features as standard; the Evo Force-i is the most energy efficient & environmentally friendly year round pool heater available.
• Extremely energy efficient, C.O.P. up to 16.28
• Latest full stepless inverter technology
• Available in 7 models, 9kW to 28kW
• Heating and cooling capability
• Built-in timers
• Easy to use colour LCD touchscreen controller
• Wi-Fi control
• Low noise fan blades
• Robust ABS cabinet
• Eco-friendly and safe R32 refrigerant
• Automatic defrost system
• Horizontal front discharge air flow
• Simple installation
• Sleek design
• Small footprint, ideal for tight installations
• Guaranteed stable performance from -15°C air
• Designed to work with solar PV panels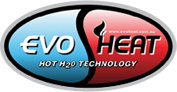 More Information
Brand
EVO Heat
Warranty

25 YEARS WARRANTY ON THE TITANIUM HEAT EXCHANGER

5 YEARS ON COMPRESSOR / FUSION 3 YEARS ON COMPRESSOR

2 YEARS ON PARTS

1 YEAR ON SITE LABOUR